Family Cruising
Experience an unforgettable family vacation on Cruise Perfect. From specially-themed kids activities to fun and games with the Youth Staff, there are endless opportunities for fun all over the ship for every age group. Learn more about our complimentary youth programs and paid services that are designed to help the little ones create moments that rock!
Please note that we have altered Norwegian Cruise Line's youth program hours as well as some activities to better accommodate the unique nature of this event.
Youth Discounts
Children 6 months - 14 years of age at the time of sailing will receive a $99 youth discount if booked as the second guest.
Children 3-14 years of age at the time of sailing that are booked as the third, fourth, or fifth* guest in a Balcony stateroom or a Suite, will receive a $150 youth discount as part of our Kids Sail for Less program.
Children 6 months - 2 years of age at the time of sailing will only be charged taxes & fees if booked as the third, fourth or fifth* guest in any stateroom.
*Fifth guests only applicable to Penthouse suites
Multi-Room Discount
Don't leave anyone at home! All guests who purchase more than one stateroom to accommodate their family are eligible for a 20% cabin fare discount on both rooms. This means you have plenty of space for your entire crew! Contact our guest services team to book your reservation and obtain this discount.
FAMILY DISCOUNT FAQs
Who is eligible for this discount?
Any guest who books at least two rooms at the same time! Tell your friends, and bring the whole family.

Can my children stay in their own stateroom?
All cabins must have a Lead Guest at least 21 years of age at the time of sailing designated in the reservation, however once on board you are welcome to sleep however you choose.

What type of stateroom can I book with this discount?
Any type! Both staterooms do not have to be in the same category, however we will place you in adjoining or nearby rooms depending on availability.

Does this discount apply to my entire reservation?
The 20% off discount will apply to cabin fare only, and is not applicable to taxes & fees or any add-ons.

Can I use this discount with any other discounts?
No, this discount is non-combinable with any non-age related discounts.
Youth Programs

Splash Academy
(Ages 3 - 12)
When your little ones are having a great time, you're having a great time. Sign them up for our complimentary youth program where they can enjoy creative play, sports and more. From theme night activities to cool parties, our youth staff has a knack for this stuff.
Read a bedtime story on your private balcony or make use of our interconnecting staterooms. Our ship has Club Balcony Suites, Balconies, Oceanviews and Inside staterooms that can accommodate three and four people. If you have a larger crew, take advantage of our 20% discount on cabin fare when you book two or more rooms!

Family Dining, Entertainment, and Activities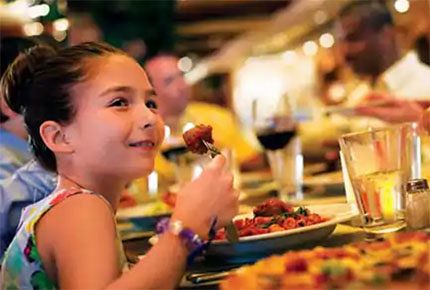 Dining
Sit down to a hot pizza. Check out our made-to-order buffet complete with unlimited soft-serve ice cream. Or make it a memorable night at a specialty restaurant. With Freestyle Dining, you can eat where you want, when you want. Plus, kids age 3 and under always eat for free and kids 4-12 can order from our complimentary kids' menu at any restaurant! Treating the kids to soda on vacation? Soda packages are also available for all ages!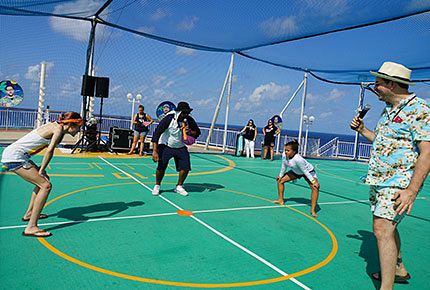 Activities
From extreme to serene activities, everyone in the family can enjoy the freedom and flexibility to do their own thing, on their own time. Throughout the year, we will update the Activities page with more information about special events for kiddos to participate in!